Nonthaburi, Thailand – On 23rd March, 2018, Dr. Charung Muangchana, Managing Director of the National Vaccine Institute, Thailand(NVI), and Mr. Steven Gao, General Manager of Xiamen Innovax Biotech Co., Ltd (Innovax), signed a Memorandum of Understanding (MOU) for the implementation of a collaboration pertaining to co-development of a strategic partnership to introduce Innovax's HPV16&18 bivalent vaccine and HPV nonavalent vaccine to interesting vaccine manufacturer(s) in Thailand, now looks forward to having the MOU ratified andentering into collaboration swiftly with the purpose of sustainable access to commercially-viable, and high-quality HPV vaccines in Thailand.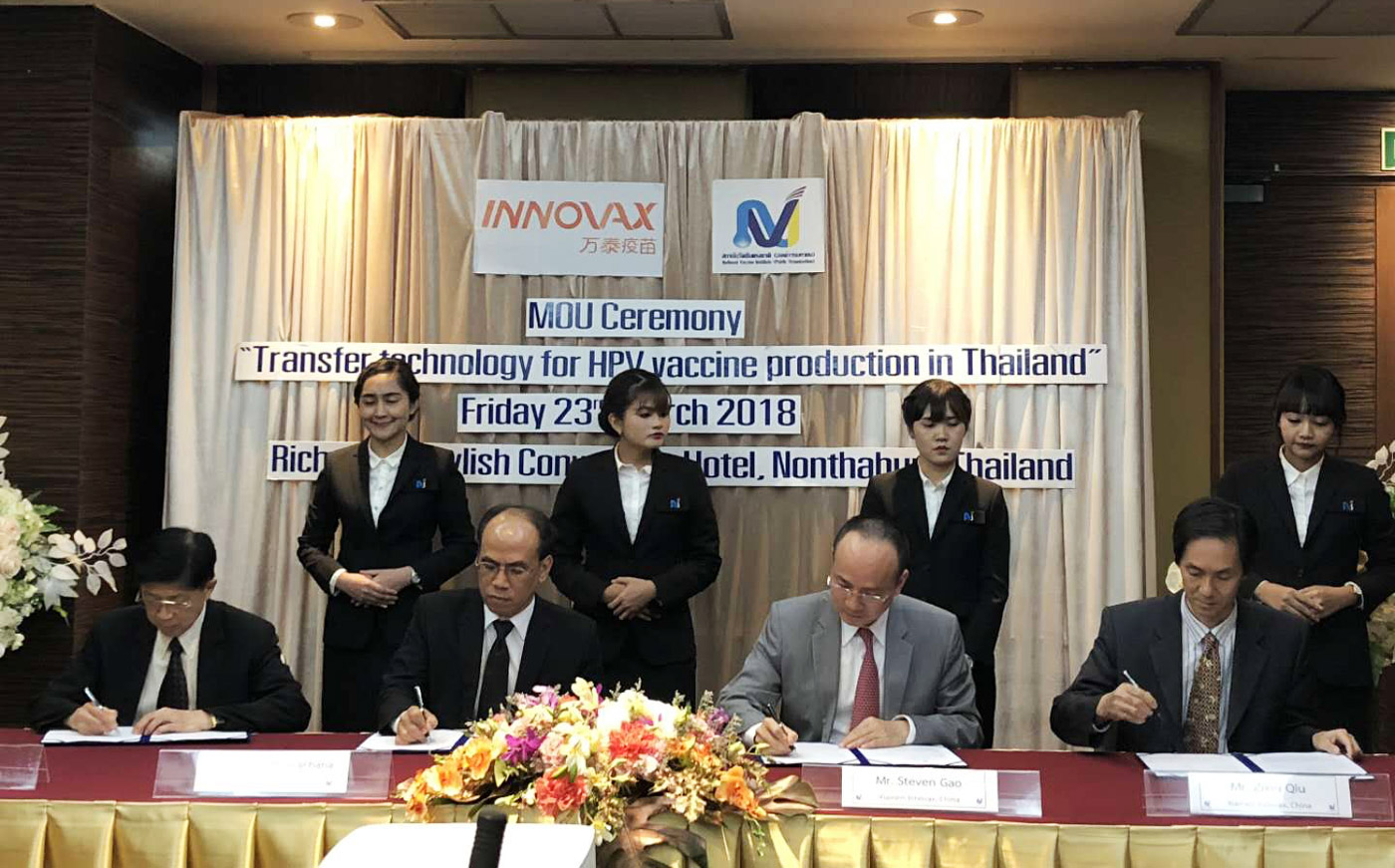 Dr. Manit Teeratantikanont, the chairman of NVI' Board and Mr. Zixin Qiu, chairman of Innovax's Board were also present as the witnesses at the signing ceremony.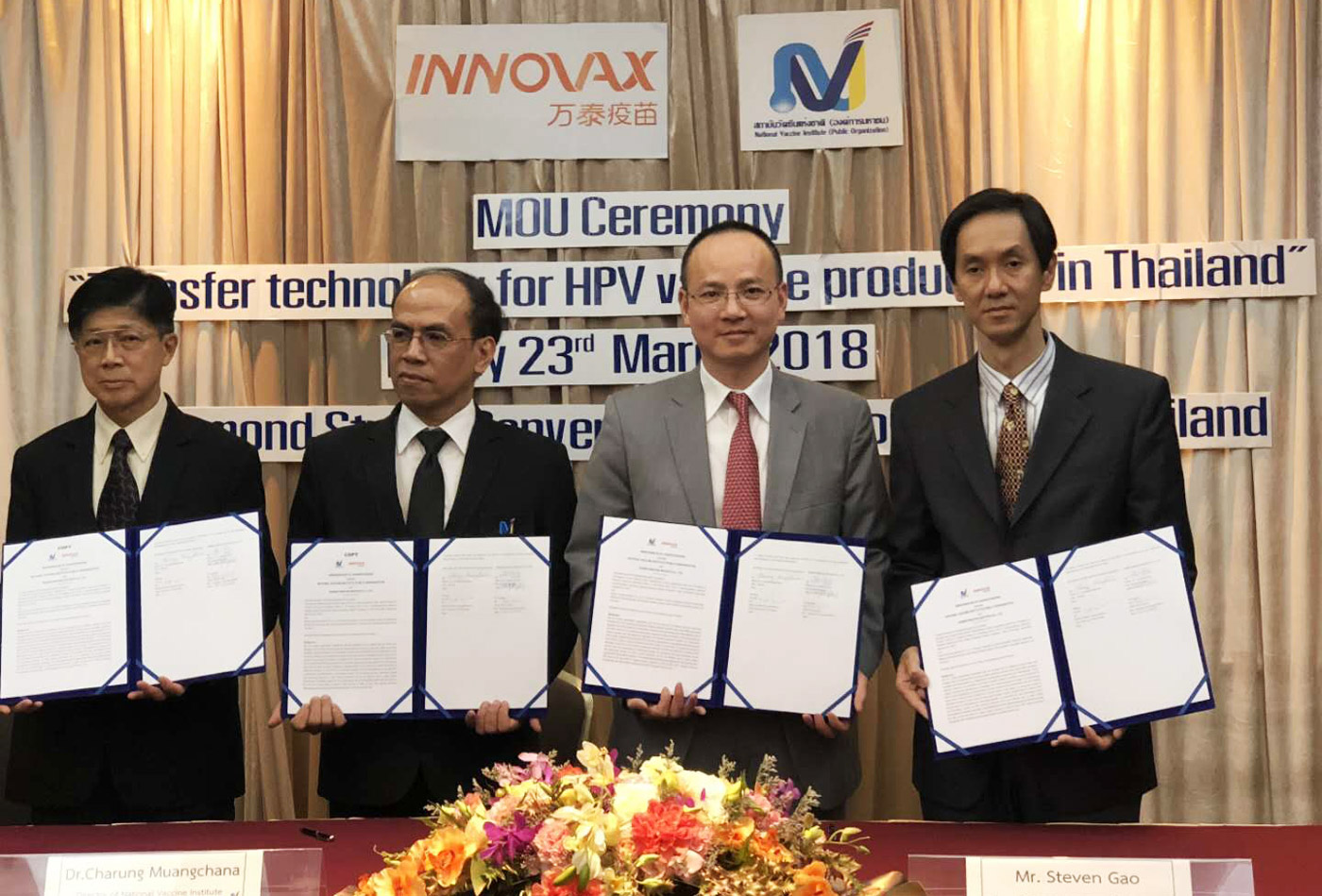 With the commitment of supply for self-reliance, national health security and commercially-viable domestic production in Thailand of Innovax's HPV 16&18 bivalent and 9-valent vaccine, NVI and Innovax will be working closely to implement the detail of MOU and consider how to take forward the cooperation at a faster pace.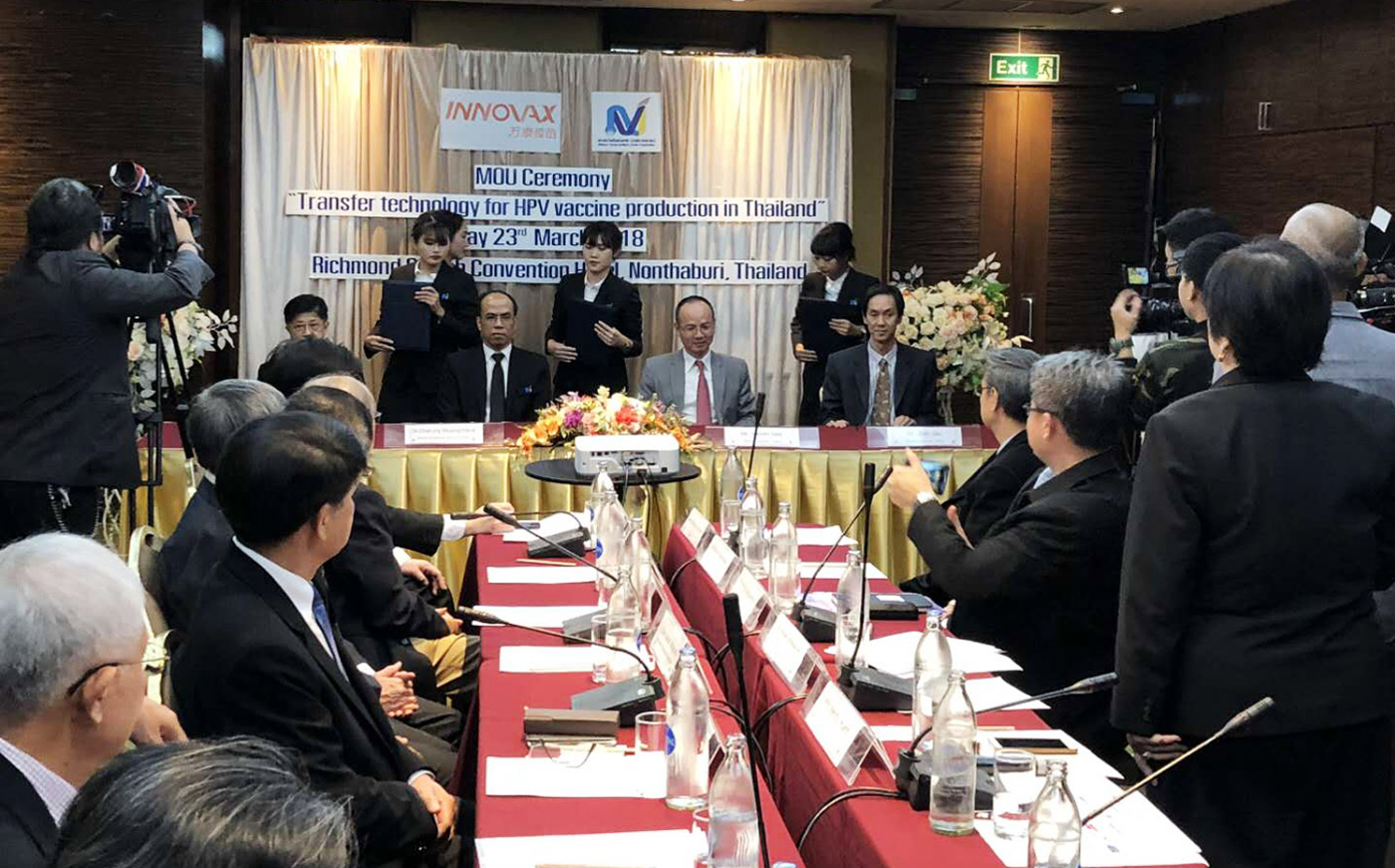 A MOA between Innovax and one Thai vaccine manufacturer is expected to be signed at the Nation Vaccine Committee(NVC) Meeting with the deputy prime minister as the witness.
The National Vaccine Institute, Thailand (NVI) is a public organization responsible with the principal role on National Vaccine Policy andStrategic Plan. NVI supports and promotes related activities of vaccine value chain (R&D, production, regulation and immunization) by collaborative networks both domestically and internationally. One of the NVI's mission is to coordinate and support capacity building of domestic vaccine production for vaccine security and self-reliance to strengthen the national expanded program on immunization (EPI). Human Papilloma virus Vaccine (HPV) has been approved and implemented in the EPI program since 2016 in order to reduce incidence of cervical cancer in the country. To assure the access of affordable vaccine is a role of NVI to encourage domestic vaccine manufacturers to produce HPV vaccine either by development or technology transfer. To accomplish this goal, technology access and technology transfer on HPV vaccine production will be an effective way to reach market authorization of domestic production. To learn more about NVI, please refer to www.nvi.go.th.
Xiamen Innovax Biotech Co., Ltd. (INNOVAX), with its premises located in a coastal city in East China, was established in 2005. Being a wholly owned subsidiary of Beijing Wantai Biological Pharmaceutical Co., Ltd. under the YangSheng Tang Group, INNOVAX is dedicated to developing and manufacturing innovative vaccines, with the mission of providing high-quality and affordable novel vaccines for people in need worldwide. In collaboration with the National Institute of Diagnostics and Vaccine Development inInfectious Diseases (NIDVD), Innovax has established a core-platform using DNA recombinant technology to express protein in E. coli for vaccine production.Based on this platform, the world's first Hepatitis E Vaccine, Hecolin? has launched in China in October 2012. In addition, its Cervical Cancer Vaccine-Cecolin? (BLA submitted) and a Genital Warts Vaccine (Phase II clinical trial completed) have been developed. Further, a 9-valent HPV vaccine is now in Phase I clinical trial. To learn more about Innovax, please visit www.innovax.cn